The Meteoric Rise of Street Art
What is street art?
Street art has become something of a phenomenon in the UK in recent years with many incredibly talented graffiti artists taking graffiti to another level and earning street art its name and place as a genre of contemporary art. According to the Tate, 'Street Art' is: "related to graffiti art in that it is created in public locations and is usually unsanctioned, but it covers a wider range of media and is more connected with graphic design." Read more on street art from the Tate here. In other words, 'street art' is simply graffiti of a very high standard. Inspired and fuelled by the huge popularity of the great pop artists such as Jean-Michel Basquiat, street art has become a hugely popular art form and can command high prices.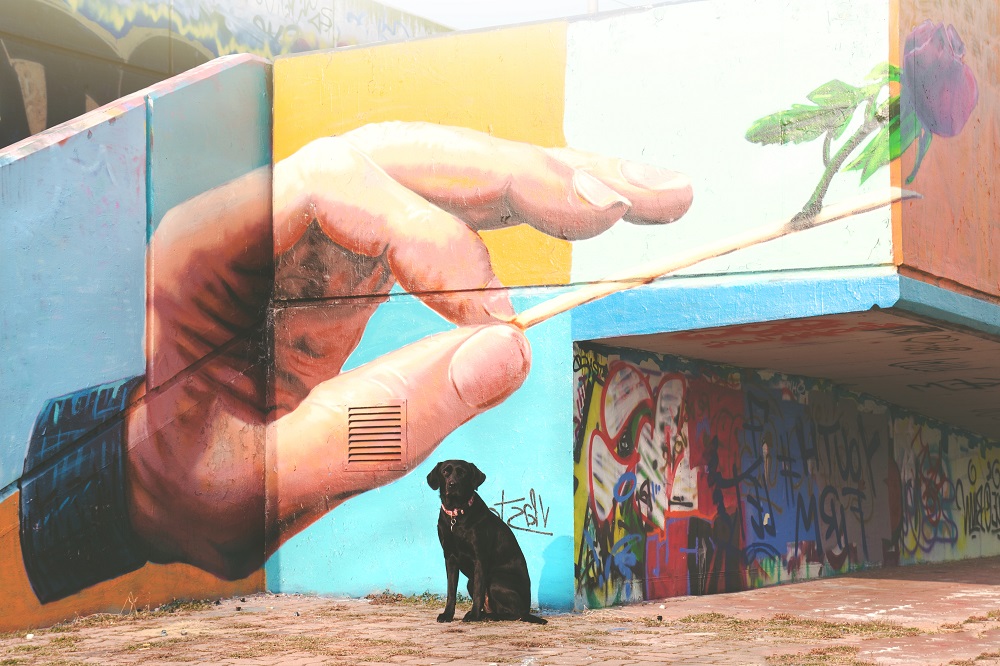 "related to graffiti art in that it is created in public locations and is usually unsanctioned"
Where are the best places to see street art?
In London you can see graffiti all over the place with the hotspots being mostly in hip East London areas such as Hackney Wick, Shoreditch, and Brick Lane. One place in particular where we think is home to some of the most beautiful examples of street art is Rivington Street. Very much in the heart of Shoreditch, this street is an absolute gem for street art, mainly at the Shoreditch High Street end of the street. Here there are 20 odd pieces to see all in a 2 to 3-minute radius. You can see works from UK and international artists such as Banksy, Thierry Noir, C215 & David Walker. Outside London, some of the best places to see more examples of fantastic street art include Aberdeen, Manchester, Brighton, and Bristol.
London, Aberdeen, Manchester, Brighton, and Bristol are among the UK's hotspots
Who are the top street artists working in the UK and abroad today?
Agwa (London)
Agwa's work stems from the conclusion that creating culture has the benefit of binding non-genetically or environmentally related beings to one another. Working with spray paint, acrylic and digital media, Agwa's work revolves around creating abstract artwork that reflects the people and narratives of his environment. He is the modern-day cave painter. For more examples of his work visit Agwa's page on the Blue Leopard website.
Agwa is the modern day cave painter
Dan Kitchener (Southend)
Known for his giant night scenes Kitchener likes to play around with light and reflection. As such his murals have a particular feel to them as he captures the bustle of a city.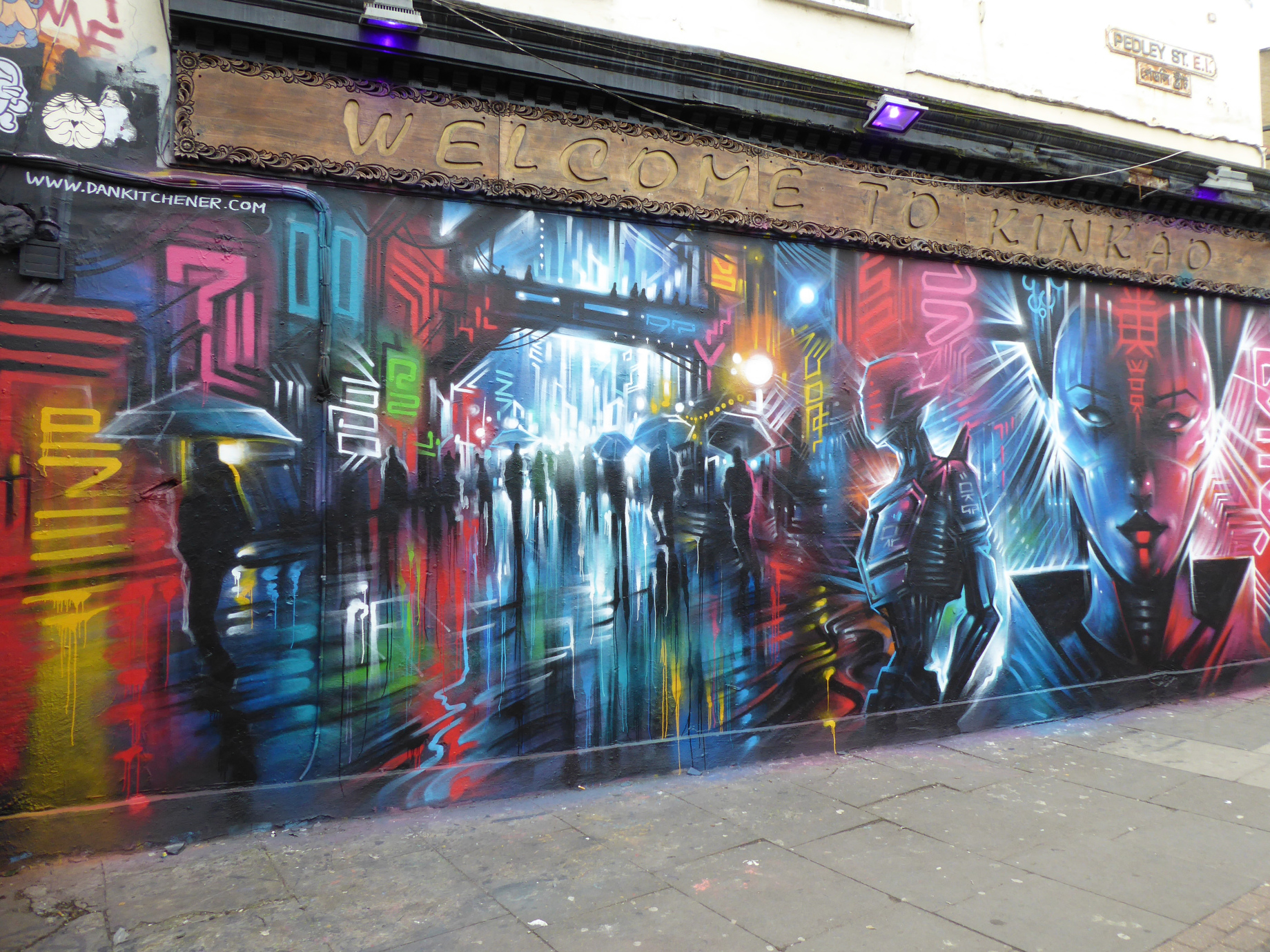 Dan Kitchener is known for his giant night scenes
Mr Cenz (London)
Mr Cenz has been scribbling on surfaces since 1988 when he first discovered hip-hop culture and graffiti art. He soon became obsessed with this new and exciting art form and after a few brushes with the law he decided to find ways of developing his skills legally. Since his first commissioned mural at 11yrs old he has continued progressing and experimenting with his art through college and University. This has led to a career as a professional graffiti artist with several solo shows and high profile commissions internationally.
Mr Cenz has been scribbling on surfaces since 1988
Anatomix (Birmingham)
Gaining herself ever more of a reputation, the Birmingham based artist has forged a trail in geometric street art which the public seem to love. Primarily portraying animals and birds Annatomix also paints people and her work can be seen not only around the country but around the world.
Anatomix has forged a trail in geometric street art
Artista (London)
One of London's most recognisable artists, Artista has been honing her colourful and crowd-pleasing style on the walls of London and pretty much everywhere else over the past five years. Her cartoon creations have been getting ever larger and ever more elaborate. Her 'flying toast' in particular has pretty much become a trademark and can be seen all over the place as has her signature 'A' character which of course stands for Artista.
Artista is one of London's most recognisable artists
Outside the UK?
Marc Jung (Germany)
Marc Jung lives and works in Berlin and is one of Blue Leopard's favourite artists. His work is absolutely stunning and what we love about it is the fact that it's available as individual pieces on canvas. He's not strictly speaking a 'street artist' but more a contemporary artist whose work captures the essence and soul of graffiti in a magnificent way. Blue Leopard works with Marc providing his work to clients in the UK. The two examples below 'Controlla' and 'Midnight Fantasy' are wonderful examples of his mesmerising work.
How can I buy street art?

Commissions
Many street artists working today can be commissioned for a unique piece of art created for the customer either indoors or outdoors. Blue Leopard works with a select group of street artists who work in this format. A unique piece of art created directly onto the wall of a commercial space – be it a hotel, bar, or restaurant – can really make the difference between a great interior and an utterly unique one.

Canvases
Most street artists are not generally working on canvas as this can undermine a large part of the creative process of making a piece of art on a permanent or semi-permanent structure. However, there are a few artists out there who also work on canvas and produce paintings that encapsulate the spirit of street art. Contact Blue Leopard for more information on this.

Photography
One affordable option to enjoy street art in your home or office is to look at 'city-scape' photography taken in places and areas where street art is in abundance. Blue Leopard can advise you on the best way of producing great looking images of your chosen city's best street art. We can also get these framed for you in a really cool way to not only celebrate the artwork but also connect it with your home's interior.
If you'd like to talk to the team at Blue Leopard about street art and how it can work with your interior design scheme visit the contact page here and drop us a line. In the meantime, get out there and enjoy all the wonderful street art that is more than likely on your doorstep.